I left at 10:00 AM yesterday from Greenville where I was a blogger, roommate, friend and sister.
16 hours later I walk into the arms of the man I love, who loves me more  and I am home and I am wife. Seconds after we reconnect I hear the voices of my children. They have come, too, late at night to the airport and I am wrapped around by small and large arms and I am mom. Before the van doors are closed the fighting has erupted, my littlest needs a finger kissed and I am okay with all of it, patient for once.
This morning I wake up and words run through my head and I am writer again…stringing words and thoughts together to put out where people can see them.
I sit at the kitchen table and drink tea out of a Mary & Martha cup, an Exodus road bracelet around my wrist, a new necklace around my neck. She sits across from me and her dreams are bigger than when I left as she thinks about how to build her own blog and go to the conference with me next year. She hugs Kisses From Katie and Jennie Allen's new book to her chest knowing they are treasures. She slips to her room and proceeds to get wrecked by reading Exodus Road. I am dream nurturer.
At the same table he sits and helps me plan a menu, avoiding pre-calculus and physics, we talk about mundane things and I treasure this conversation with the boy-man that dwarfs me. I am listener to everything and nothing.
I check e-mails and oversee school work and I am teacher and business owner and the goats are out and the puppies got run over and I am farmer and steward of the things God's given.
We pray together as a family wondering what our yes will look like as we ponder a need in our community. Our hearts are heavy for the young person that my husband spent the morning with. I am intercessor.
I open my Bible and read about the cost of being a disciple, a God-sized dreamer and I choose to say yes to all these things. The little pieces of every day that make up my everyday life.
I throw turkey bones in the pot and turn it on, I am cook.
We are each a grand puzzle, a picture slowly emerging as we let our life be arranged by the One who thought up the picture. There are edge pieces and obvious pieces and all the filler pieces that leave us wondering.
For all the multitudes this Monday, I say thank you.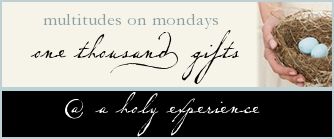 }